British vice-counties
Vice-county boundaries were originally defined by H.C. Watson in 1852. Many biological recording schemes still use the vice-county boundaries, which have remained unchanged and therefore provide a stable way of grouping county records, rather then the modern county boundaries, which are subject to revision. For more information see Wikipedia.
Digitised boundaries for British vice-counties are available from BRC's GitHub repository. (These include amendments and corrections from the version originally digitised by the National Biodiversity Network.)
Latest edits at 2 November 2020:
The islands of Sule Stack and Sule Skerry off the north coast of Scotland had been incorrectly allocated to VC110 - these have now been allocated to VC111.
The list of vice-county names has been rationalised to remove some typos and inconsistencies. There is no 'official' list of VC names, and all available sources differ from each other in some respects. The list now in use here is based on the most widely used variants.
| | |
| --- | --- |
| No. | Name |
| 1 | West Cornwall |
| 2 | East Cornwall |
| 3 | South Devon |
| 4 | North Devon |
| 5 | South Somerset |
| 6 | North Somerset |
| 7 | North Wiltshire |
| 8 | South Wiltshire |
| 9 | Dorset |
| 10 | Isle of Wight |
| 11 | South Hampshire |
| 12 | North Hampshire |
| 13 | West Sussex |
| 14 | East Sussex |
| 15 | East Kent |
| 16 | West Kent |
| 17 | Surrey |
| 18 | South Essex |
| 19 | North Essex |
| 20 | Hertfordshire |
| 21 | Middlesex |
| 22 | Berkshire |
| 23 | Oxfordshire |
| 24 | Buckinghamshire |
| 25 | East Suffolk |
| 26 | West Suffolk |
| 27 | East Norfolk |
| 28 | West Norfolk |
| 29 | Cambridgeshire |
| 30 | Bedfordshire |
| 31 | Huntingdonshire |
| 32 | Northamptonshire |
| 33 | East Gloucestershire |
| 34 | West Gloucestershire |
| 35 | Monmouthshire |
| 36 | Herefordshire |
| 37 | Worcestershire |
| 38 | Warwickshire |
| 39 | Staffordshire |
| 40 | Shropshire |
| 41 | Glamorgan |
| 42 | Breconshire |
| 43 | Radnorshire |
| 44 | Carmarthenshire |
| 45 | Pembrokeshire |
| 46 | Cardiganshire |
| 47 | Montgomeryshire |
| 48 | Merionethshire |
| 49 | Caernarvonshire |
| 50 | Denbighshire |
| 51 | Flintshire |
| 52 | Anglesey |
| 53 | South Lincolnshire |
| 54 | North Lincolnshire |
| 55 | Leicestershire |
| 56 | Nottinghamshire |
| 57 | Derbyshire |
| 58 | Cheshire |
| 59 | South Lancashire |
| 60 | West Lancashire |
| 61 | South-east Yorkshire |
| 62 | North-east Yorkshire |
| 63 | South-west Yorkshire |
| 64 | Mid-west Yorkshire |
| 65 | North-west Yorkshire |
| 66 | County Durham |
| 67 | South Northumberland |
| 68 | North Northumberland |
| 69 | Westmorland |
| 70 | Cumberland |
| 71 | Isle of Man |
| 72 | Dumfriesshire |
| 73 | Kirkcudbrightshire |
| 74 | Wigtownshire |
| 75 | Ayrshire |
| 76 | Renfrewshire |
| 77 | Lanarkshire |
| 78 | Peeblesshire |
| 79 | Selkirkshire |
| 80 | Roxburghshire |
| 81 | Berwickshire |
| 82 | East Lothian |
| 83 | Midlothian |
| 84 | West Lothian |
| 85 | Fifeshire |
| 86 | Stirlingshire |
| 87 | West Perthshire |
| 88 | Mid Perthshire |
| 89 | East Perthshire |
| 90 | Angus |
| 91 | Kincardineshire |
| 92 | South Aberdeenshire |
| 93 | North Aberdeenshire |
| 94 | Banffshire |
| 95 | Moray |
| 96 | East Inverness-shire |
| 97 | West Inverness-shire |
| 98 | Argyll |
| 99 | Dunbartonshire |
| 100 | Clyde Isles |
| 101 | Kintyre |
| 102 | South Ebudes |
| 103 | Mid Ebudes |
| 104 | North Ebudes |
| 105 | West Ross |
| 106 | East Ross |
| 107 | East Sutherland |
| 108 | West Sutherland |
| 109 | Caithness |
| 110 | Outer Hebrides |
| 111 | Orkney |
| 112 | Shetland |
| 113 | Channel Islands |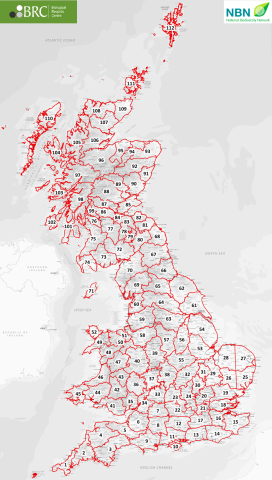 Image source
Based on work by BRC and NBN