NBN Atlas datasets
Key Outputs
BRC contributes to many distribution datasets shared via the NBN Atlas, which is an online tool that provides a platform to engage, educate and inform people about the natural world.
A list of datasets on the NBN Atlas provided through BRC, can be found here.
Many datasets also go to the NBN via iRecord, which the BRC supports, details of which can be found here.
​​The NBN Gateway's Interactive map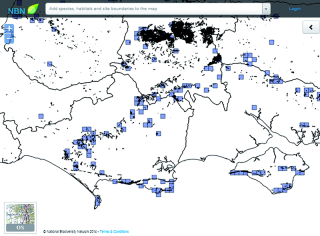 Figure: NBN.
The NBN gateway is not only the UK's central repository of biological occurrence data but is also a platform for sharing these data with policy makers, researcher, students and other volunteer recorders. Here we show the distribution of the Adonis Blue, Polyommatus bellargus, butterfly (supplied by Butterfly Conservation; blue 2km squares) overlaid on areas of chalk grassland (supplied by Natural England; areas in black).