Apps and technology
Current Activity
The world has been undergoing an increasingly rapid technological revolution for the past 50 years. In 2014, almost all 16 to 24 year olds use the internet and 59% of the UK's population have a smart phone - a miniature pocket computer accessing the internet. These advances, among many others, have changed the way many of us live our lives. BRC is developing a number of smart phone apps, websites and analytical tools that harness technologies to support biological recording.
Key Outputs
The National Biodiversity Network Gateway is a world-leading system for sharing ~100 million observations.  The iRecord website combines digital photography, the networking ability of the internet and statistical analyses to provide a robust means of collecting biological records for the 21st Century. iRecord links to a growing set of 'on-the-go' biological recording apps, such as those for ladybirds and butterflies which allow users to submit records containing GPS location, photographic evidence and a range of useful supplementary information.
The NBN Gateway's Interactive map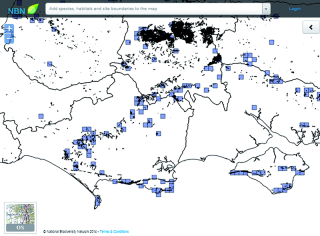 Figure: NBN.
The NBN gateway is not only the UK's central repository of biological occurrence data but is also a platform for sharing these data with policy makers, researcher, students and other volunteer recorders. Here we show the distribution of the Adonis Blue, Polyommatus bellargus, butterfly (supplied by Butterfly Conservation; blue 2km squares) overlaid on areas of chalk grassland (supplied by Natural England; areas in black).
Taxonomic coverage of iRecord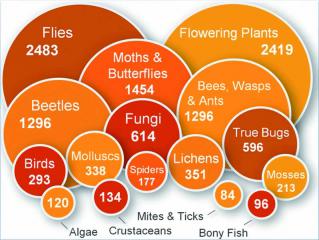 Figure: Tom August, CEH.
The number of people submitting wildlife sightings online is increasing dramatically. The taxonomic breadth of data collected through iRecord on behalf of recording schemes is unrivalled. The quantity and quality of data offers great opportunities for research and conservation but also presents many technological challenges.
Mobile Apps
BRC supports recording using mobile apps. They will make it easier for more people to jon in. By using GPS, camera, clock, and mobile network, we expect to see more records that are more accurate.
We have built apps for recording butterflies and ladybirds. We have also helped other organisations such as the Environment Agency and the Mammal Society.
The sightings go to iRecord, allowing recorders to see all their observations in one place.
See the full list of apps.
Future Challenges
Technology has increased and diversified the ways that biological records are submitted, analysed and shared. BRC is using its wealth of experience of biological recording and supporting technologies to develop and share tools, enabling schemes to meet the challenge of diverse data types from numerous providers. BRC has helped create tools such as the Indicia software, for developers of online recording systems, and rNBN for researchers, to help address these challenges.
References
| | |
| --- | --- |
| | (2021) The Verification of Ecological Citizen Science Data: Current Approaches and Future Possibilities. , |
| | (2020) Data-derived metrics describing the behaviour of field-based citizen scientists provide insights for project design and modelling bias. , |
| | (2019) United Kingdom Terrestrial Evidence Partnership of Partnerships data products: improving opportunities for re-use. JNCC, Peterborough |
| | (2019) State of nature 2019. State of Nature Partnership, |
| | (2020) AI Naturalists Might Hold the Key to Unlocking Biodiversity Data in Social Media Imagery. , |
| | (2020) Data Integration for Large-Scale Models of Species Distributions. , |
| | (2020) Thinking like a naturalist: Enhancing computer vision of citizen science images by harnessing contextual data. John Wiley & Sons, Ltd, |
| | (2021) occAssess: An R package for assessing potential biases in species occurrence data. , |
| | (2022) ROBITT: A tool for assessing the risk-of-bias in studies of temporal trends in ecology. John Wiley & Sons, Ltd, |
| | (2020) A validated workflow for rapid taxonomic assignment and monitoring of a national fauna of bees (Apiformes) using high throughput DNA barcoding. John Wiley & Sons, Ltd, |